Voice achieves multi-gold award winning success at the Asia Pacific Awards 2017
Voice, Specialist Brand Agency has won three gold, a silver and a bronze award at the Transform Awards Asia-Pacific 2017 held in Hong Kong on 6 December.
Voice are the only New Zealand brand agency and one of only two agencies in Australasia shortlisted in the awards alongside brands such as Hyundai, HSBC, Amnesty International, Unilever and Konica Minolta.
Voice's client work with Aunt Jean's Dairy, Healthy Breath/MEO, OJI Fibre Solutions, and Frucor Suntory was shortlisted for five awards. Its work with Frucor Suntory won gold for best corporate rebrand following a merger or an acquisition. Voice also won gold for best wayfinding or signage for its work with OJI Fibre solutions, and gold for best use of packaging for its work with Aunt Jean's Dairy and O-I New Zealand.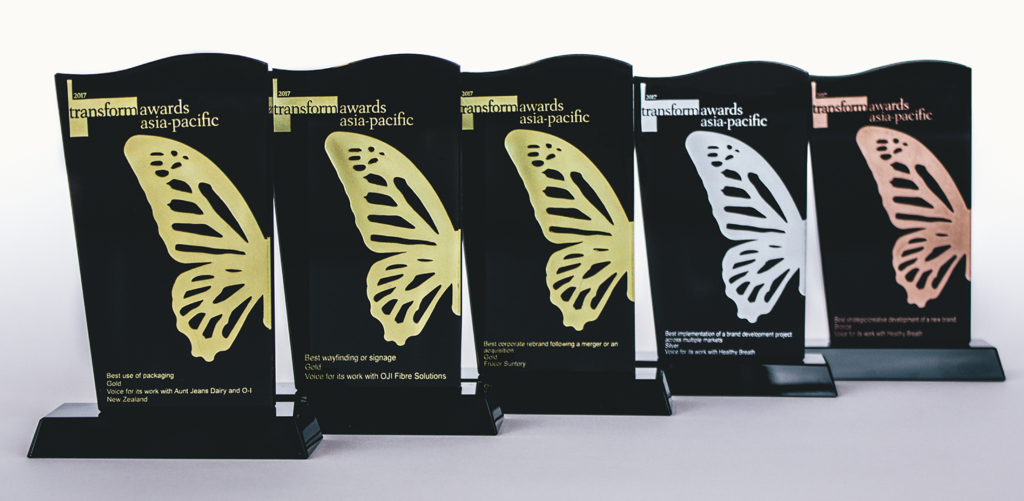 "Leading brand development work always requires an element of courage and mutual trust and we're grateful that our clients have collaborated with us to create exciting work."

Jonathan Sagar, Voice Principal
Voice's work with Healthy Breath/MEO also received a silver for best implementation of a brand development project across multiple markets and bronze for best strategic/creative development of a new brand.
The global Transform Awards celebrate the best in rebranding, employer brand strategy and brand development in Europe, MENA (Middle East and North Africa), Asia-Pacific and North America and each region's awards ceremony is held annually in London, Dubai, Hong Kong and New York. The awards recognise best practice in corporate, product and global brand development work, with categories that focus on brand strategy, execution, content and evaluation.
This year's Transform Awards Asia-Pacific judging panel consisted of 22 in-house industry experts from a multitude of sectors and organisations such as UberEATS, IBM, Greenpeace and Mattel. The scoring is done on a points system and the judges score anonymously. There is a commercial aspect to the judging and shortlisted work must demonstrate proven success.
Voice Principal Jonathan Sagar, Managing Director Neil Sparksman and the Voice team were with clients in Hong Kong to collect the awards. "We are so proud to have our work acknowledged at such a high level," says Sagar. "Leading brand development work always requires an element of courage and mutual trust and we're grateful that our clients have collaborated with us to create exciting work. As an independent brand agency and finalist alongside big multinational players in this space, we feel this is a real testament to the quality of work representing New Zealand on the world stage."
Transform Magazine
Scoop Independent News NZ
Voxy.co.nz
The Creative Store
Supermarket News congratulates Aunt Jeans
Frucor Suntory wins gold at Transform Awards
Aunt Jean's Dairy wins gold